Regional Assessments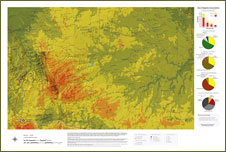 Understanding the characteristics and distribution of clean energy resources in a region is fundamental to planning how best to manage those resources. At Atlas Renewables, we help you to assess the energy potential of an area as an integrated whole. At the conclusion of a regional resource assessment, opportunities for renewable energy use become apparent in a manner that allows for the intelligent comparison of different alternatives. Proposals can then be made in an informed context, allowing a proponent to clearly articulate why a project is valuable and beneficial to the community, and helping regulatory bodies and permitting agencies to better evaluate the impacts and merits of a proposal.
With the help of a resource assessment a projectís context and relative merit is clear, and the foundation has been set for further discussion of the regionís total potential, informing and framing the dialogue between utilities, planners, community members, environmental groups and developers about the costs and benefits of proposed projects in a region.
Contact us for more information...